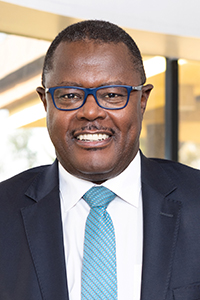 David Kabeberi
Partner
Tel: +254 20 4270000, +254 732144000
Email: dkabeberi@ke.pkfea.com
Professional Experience
David has over 35 years valuable experience while serving as auditor, accountant, financial and tax advisor, secretary, liquidator, trustee and receiver/manager to a wide variety of businesses and organisations.
Professional Qualifications and Memberships:
David qualified as a Certified Public Accountant of Kenya in 1984 and is a member of the Institute of Certified Public Accountants of Kenya – CPA (K).
Key Experiences:
Apart from overall accounting and investigation expertise, David's experience is drawn from several assignments involving due diligence, mergers and acquisitions, public and private share issues and placements, strategic planning and management, financial forecasting, business reviews, corporate recovery investigations, corporate taxation and statutory affairs.
David has extensive corporate finance experience as well as advising the public sector on privatization of enterprises. David has also served as a director and strategic executive in a number of companies in business and development.
Return to directory